A partnership between UCLA School of Law and UCLA Samueli School of Engineering, the Institute for Technology, Law & Policy examines the benefits and risks presented by technologies such as artificial intelligence and machine learning, robotics, cybersecurity and digital media and communications.
These and other rapidly evolving technologies raise questions germane to the outcome of ethical and public policy issues, the applicability and utility of current laws and regulations that govern their use.
---
Upcoming Events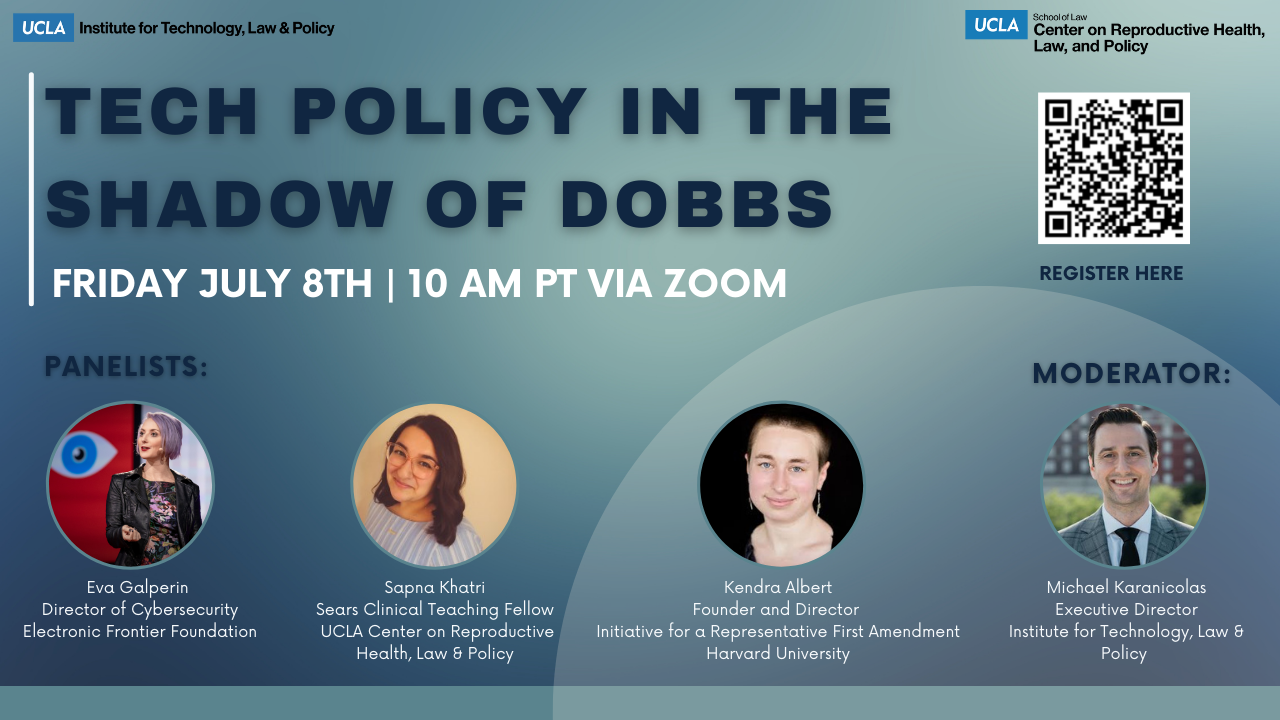 The recent Supreme Court decision in Dobbs v. Jackson Women's Health Organization, which overruled a half century of precedent supporting a constitutional right to abortion access, has sent shockwaves across the legal community. In the tech space, the ruling raises difficult privacy and security questions related to how the digital surveillance economy may be weaponized to track women seeking healthcare services. Content moderation challenges are also being reconsidered, in light of reports that Facebook has been removing posts offering abortifacients by mail. Even the First Amendment is engaged, amid reports that some state legislatures are considering new laws criminalizing websites that "encourage" illegal abortion services.
This panel, which is co-sponsored by the UCLA Institute for Technology, Law & Policy and the Center on Reproductive Health, Law, and Policy, brings together leading experts on cybersecurity, freedom of speech, and reproductive rights to discuss the tech policy landscape in the aftermath of Dobbs.
To register, please visit: https://ucla.zoom.us/meeting/register/tJArduitqjguG9flujolqmXxaFnUi3D8SXtv
Information about past events can be found on our previous events page. 
---
ITLP Small Grants Program 
The UCLA Institute for Technology, Law and Policy (ITLP) invites applications from students at all levels, as well as faculty, for interdisciplinary projects aimed at addressing a pressing technology and policy issue.
 
The goals of this small grants program include:
Supporting the educational and professional development of UCLA students.
Fostering inter-disciplinary research at UCLA.
Generating innovating new solutions to challenges at the interface of law and technology.
For more information, please visit here: request for proposals. 
The Destabilization Experiment
The Destabilization Experiment, an ideas series produced in partnership between Rest of World and the UCLA Institute for Technology, Law & Policy, explores the multifaceted ways that social media has impacted the political discourse around the world, to answer the question: What impact is social media having on democracies around the world?
Publications
Academic Publications

Michael Karanicolas, "Authoritarianism as a Service: India's Moves to Weaponize Private Sector Content Moderation with the 2021 Information Technology Rules," Indian Journal of Law & Technology (2022).

Mark Verstraete and Maria Lilla Montagnani, "What Makes Data Personal?," 56 U.C. Davis Law Review (forthcoming 2023). 

Mark Verstraete and Tal Zarsky, "Cybersecurity Spillovers," 47 Brigham Young University Law Review (forthcoming 2022). 

Mark Verstraete, Jane Bambauer, and Derek Bambauer, "Identifying and Countering Fake News," 73 Hastings Law Journal 821 (2022). 

Leeza Arbatman and John Villasenor, "Anonymous Expression and "Unmasking" in Civil and Criminal Proceedings," 23 Minn. J.L. Sci. & Tech. 77 (2022). 

Mark Verstraete and Tal Zarsky, "Optimizing Breach Notification," University of Illinois Law Review (2021).

Michael Karanicolas, "A FOIA For Facebook," 66 Saint Louis University Law Journal (2021).

Mark Verstraete, "Inseparable Uses," 99 North Carolina Law Review 427 (2021).

Michael Karanicolas, "Too Long; Didn't Read: Finding Meaning in Platforms' Terms of Service Agreements," 51 University of Toledo Law Review 1 (2021). 

Michael Karanicolas, "Even in a Pandemic, Sunlight Is the Best Disinfectant: COVID-19 and Global Freedom of Expression," 22 Oregon Review of International Law 101 (2021).

Virginia Foggo and John Villasenor, "Algorithms, Housing Discrimination, and the New Disparate Impact Rule," 22 Columbia Science and Technology Law Review 1 (2021).

Virginia Foggo, John Villasenor, and Pratyush Garg, "Algorithms and Fairness," 17 Ohio State Technology Law Journal 123 (2020).

John Villasenor and Virginia Foggo, "Artificial Intelligence, Due Process, and Criminal Sentencing," 2020 Michigan State Law Review 295 (2020).

Short articles, op-eds, and blogs