The Native Nations Law & Policy Center offers many events that address critical public policy issues facing Native tribes.
To stay up to date with plans for future events, contact nativenationslaw@law.ucla.edu.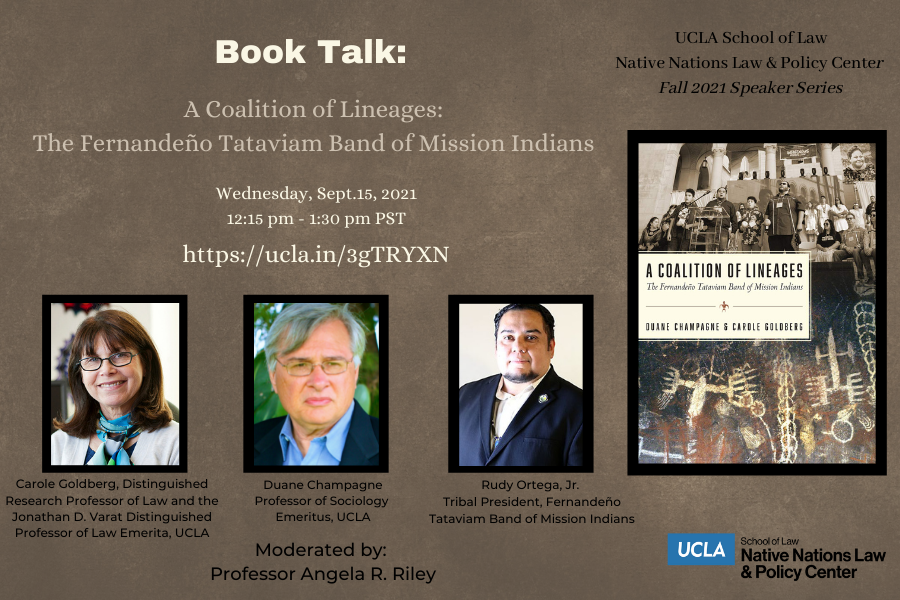 ---
Book Talk: A Coalition of Lineages: The Fernandeño Tataviam Band of Mission Indians
Wednesday, September 15, 2021 - 12:15pm - 1:30pm PST, Via Zoom
Please join us for a webinar for a new book authored by NNLPC's Founding Director, Professor Carole Goldberg and Professor Duane Champagne.
The Indigenous people who were brought to Mission San Fernando, northwest of present-day Los Angeles, came from autonomous, lineage-based villages, connected through ceremonies, trade, and intermarriage. Our new book, "A Coalition of Lineages," depicts the dispossession, attempted detribalization, persistence, and multicultural adaptations of these lineages, including formation of an overlapping Mission Indian identity and tribal organization. Although most histories of mission Indians end with the closing of the missions, our book presents powerful evidence that the Fernandeño tribal community has continued into the present. Even as a Tribe seeking federal recognition, the Fernandeño Tataviam Band of Mission Indians has successfully pursued economic development, social welfare for its members, and engagement with federal, state, and local governments.
You can purchase the book here: https://uapress.arizona.edu/book/a-coalition-of-lineages
---
Upcoming Fall 2021 Events
TLDC Highlight: The Need for Confidentiality within Tribal Cultural Resource Protection
Wednesday, October 6, 2021
12:15pm - 1:30pm
Via Zoom, register here: https://ucla.in/3AhoyKQ
NNLPC Fall 2021 Speaker Series: Indigenous Peacemaking at the Intersection of Law and Culture
Tuesday, October 26
4:00pm - 5:00pm
Law School Room 1314
NNLPC Fall 2021 Speaker Series: The Ascension of Tribal Cultural Property Law
Wednesday, November 10, 2021
12:15pm - 1:30pm
Via Zoom, register here: https://ucla.in/39aoIb3